Mr. Sexsmith loves teaching and facilitating ideas.
Here are the 2013-2014 workshop topics:


[columns width="1/3″]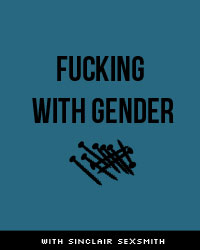 [/columns] [columns width="2/3″ last="true"]
Fucking with Gender
Sinclair's signature class. Presented at Drew University (NJ), Brown University (RI), Northwestern University (Chicago), Smith College (Northampton, MA), Swarthmore University (Philadelphia), Harvard University (Cambridge, MA), and more.
Let's explore gender expression, identities, labels, transcending the mutually exclusive binaries, queer culture, and hot sweaty sex. Academics love deconstructing gender—and yet, we still have to navigate this gendered world. How do you build your gender intentionally? Are there ways gender can "hurt" less? And how do you develop your gender in ways that enhance and sustain a satisfying sex life? ('Cause really, don't we all want better sex?)
Developed explicitly for students of gender studies, sexuality studies, and queer studies who want to put their theory into practice, this workshop covers Sinclair's Best Sex Secrets and Gender Tenets and an interactive Q&A to discuss your burning questions.
Keywords: gender | theory | sexuality | writing prompts | handouts
[/columns]

Becoming a Queer Leader
So you want to be a leader in the queer community? Travel around to conferences, write articles, start a blog that is widely read and valued, or teach workshops? First of all, you need to have a community to lead—so how do you help be part of building stronger connections between people? And what about the downsides of community leadership, like unreliable income, your reputation proceeding you, and being held to high expectations? We'll delve into all of it, including how to build from where you are now to where you want to go, and what to be sure to create and prepare for along the way.
Maximum attendance: 8-10 people. Each attendee must pre-register with an application and statement of intent, complete an interview process, and meet with Sinclair for one hour of personal coaching time the day before the workshop. The workshop includes a workbook, personal coaching, and follow-up check ins with each participant.
Keywords: queer | careers | individual | advanced | leadership | training
[/columns] [columns width="1/3″ last="true"]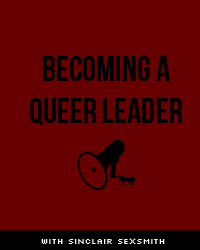 [/columns]


[columns width="1/3″]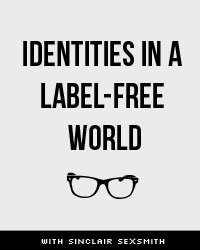 [/columns] [columns width="2/3″ last="true"]
Identities in a Label-Free World
"But I'm so much more than just one thing!" "Labels are for jars." "I'm just me, you know?" "I like people, not genders."
Do you hear folks struggling with labeling their own identities? Either out-right rejecting the idea of labels, or using one but qualifying it extensively? So do I, and there are a lot of real reasons to resist labels. We are so much more than one thing! But what part of identity creation and theories are valuable as we understand the ways that our marginalizations and privileges move through and fit in the world? We'll discuss what the difference is between labels and identities, and pose the radical idea that words can be liberating and not just limiting.
Keywords: psychological | identity | personal growth | empowerment
[/columns]

Build Your Own Gender Toolkit
Ever been told you can't do something because of your gender? Do you describe yourself as a "____ woman" or a "____ man" or a "_____ femme" or a "______ queer" because you want people to know that you challenge a stereotype of that label? Does your gender sometimes hurt, from pinpricks to sledgehammer blows as you move through the world?
In this workshop we'll explore the difference between your personality, your hobbies, your interests, and your gender, and break it all down such that you can have your own raw materials to create and fortify your gender to move through the world fluidly, with more pleasure and less pain.
Keywords: gender | theory | workshop | interactive
[/columns] [columns width="1/3″ last="true"]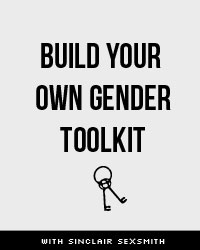 [/columns]


[columns width="1/3″]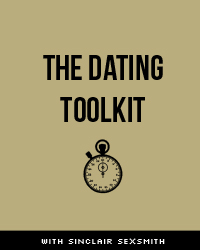 [/columns] [columns width="2/3″ last="true"]
The Dating Toolkit
Do you want to be bold, but not creepy? Do you want to stop being a pushover and letting the person you're dating have their way? Do you need to develop and strengthen your boundaries? What are your boundaries, anyway? And how do you ask someone out on a date? From flirting, to attracting the kind of person you desire to be in a relationship with, to navigating sex in a long term relationship, to open relationships, we all want to be involved with people who get us, who have our backs, and whom we trust deeply. What kind of skills do we need to build now in order to have the kind of relationships we want in the future? This workshop will introduce key concepts for communication and connection, and encourage all attendees to have better, deeper, and more satisfying relationships.
Keywords: relationships | psychological | empowerment | bed death | flirting | long term relationships
[/columns]

The Sexual Politics of BDSM
Presented at IvyQ, the Ivy League queer conference, at Yale University
We all have some ideas about what it means to be a top or a masochist, but what does it mean to be a feminist dominant or an empowered submissive? And why do we assume that submissives are unempowered, anyway? What's the difference between BDSM and abuse? Is it healthy to engage in kinky sex play? Sinclair thinks so. BDSM is the pursuit of giving and receiving pleasure through bold sensation, the consensual exchange of temporarily giving up power or taking on authority over another. In this workshop we'll explore how consent and agency are key issues in feminism, and how they work in the exploration of BDSM. We'll discuss different kinds of topping and bottoming, as well as theories to to enhance your personal BDSM skills.
Keywords: dominance & submission | power | BDSM | academic | theory | consent | communication | negotiation
[/columns] [columns width="1/3″ last="true"]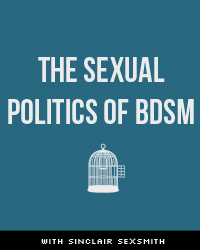 [/columns]


[columns width="1/3″]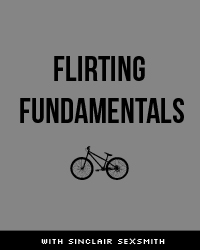 [/columns] [columns width="2/3″ last="true"]
Flirting Fundamentals
Do you never realize someone is hitting on you? Are you seen as flirtatious all the time, but don't know how to tell people when you're actually trying to hit on them? Flirting comes easy to some, but most of us have to work on it, and it's hard. Yet, we all want to get laid—and making it happen has all sorts of challenges. Do you wish more people would hit on you? How do you make yourself more available? How do you ask for what you want? Who should make the first move? Come to this workshop, and we'll learn some tips and practice them (in gentle ways) with others.
Keywords: flirting | relationships | community | experiential | inhibition | shame
[/columns]

The Feminist Dominant
Do you want to play harder with BDSM, sensation, spanking, or power dynamics, but feel guilty? Does dirty porn and erotica turn you on, but when it comes to trying it with a lover, you hesitate and worry about whether you're "respecting" your partner? What are the feminist ways to explore power dynamics, sensation, and psychological dominance and submission? Let's explore our responsibilities in a culture that belittles women and makes assumptions about power, and reclaim the pieces that we need in order to have a kick-ass sex life. Whether you are a dominant or a submissive, a top or a bottom, or just want to use some power in the bedroom to enhance your sex life, this workshop is for you.
Keywords: dominance | power | BDSM | conferences | kink
[/columns] [columns width="1/3″ last="true"]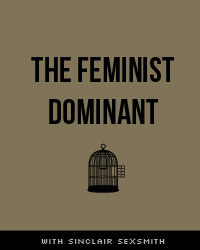 [/columns]


[columns width="1/3″]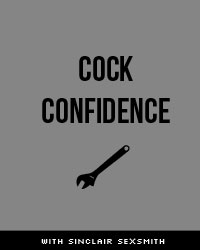 [/columns] [columns width="2/3″ last="true"]
Cock Confidence
Sinclair's signature class; presented at KinkForAll New York City, Fascinations (Portland, OR), Butch Voices NYC, Good Vibrations (Boston), and others. Beginner to intermediate.
Many of us have experience with strapping on, packing, and playing, but there are lots of new products out there on the market that might be exciting and that you haven't encountered yet. Writer and sex educator Sinclair Sexsmith talk about what cocks are good for packing, what options are out there for pack-and-play, which harnesses are the most loved, and which to avoid. Plus, she'll delve into some cock confidence, getting into the psychology of penetration, and discussing what it's like to shoot from the hip. Come get the nuts and bolts of strapping it on and fucking. You'll learn about positions and lube, how different products work, what "cock confidence" means, and the psychology behind strapping on and playing with a cock with a partner, or with oneself.
Keywords: strap-on | intermediate | psychological | empowerment
[/columns]

Talking Dirty
Talking dirty in the bedroom can be terrifying at first, but once you unlock your tongue, you'll find yourself saying all sorts of delicious things! Come to this workshop and we'll figure out what's tying our tongues in the first place, what's holding us back from being more free with our language in the bedroom, and what the heck we should say to enhance our sex and intensity our sensation. The brain is the biggest sex organ, after all, and the more we can turn on our minds, the better our experiences will be.
Keywords: conferences | BDSM | sex education | inhibition | shame
[/columns] [columns width="1/3″ last="true"]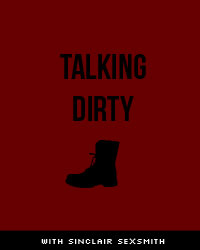 [/columns]


[columns width="1/3″]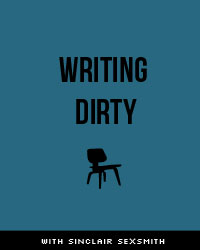 [/columns] [columns width="2/3″ last="true"]
Writing Dirty
To write about sex well you need the boldness to command and describe the dirty and oh so delicious acts we humans explore, and the basic writing skills of plot, setting, and character. In this pen-to-paper writing workshop we'll look at some examples of extremely successful and unsuccessful erotica, steamy love letters for your sweetheart, how to step up your blog to the next level, where to submit your work for publication in the erotica world, and some quick basics for editing your work. Bring a paper and writing utensil, we will be doing writing exercises.
Keywords: community | writing | erotica | words | writing prompts
[/columns]

Didn't see what you want here? Sinclair occasionally takes special requests, or you can browse through their A-Z list of workshops past and present and see if one could be resurrected for you.