Sweet & Rough: Sixteen Stories of Queer Smut
This is box title
"Sweet and Rough is the perfect title for this collection of raw, queer, kinky and passionate erotica that will appeal to smut connoisseurs as well as new readers looking for something hot and titillating to keep them up at night."
—Rachel Kramer Bussel, editor of The Big Book of Orgasms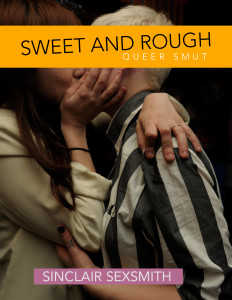 Sweet, sensual adoration and dirty, rough sex meet in this anthology of queer smut penned by Top Sex Blogger Sinclair Sexsmith. The complete collection includes sixteen of Sinclair's best queer erotica short stories, full of dapper dates, femmes in pretty dresses, flogging, bondage, flirting on the subway, bold moves, and (of course) strap-ons. From ongoing lovers to one-night stands, the kinky queer butch top protagonist delivers heart and dominance, over and over.
Lambda Literary Award finalist for the Lesbian Erotica category! For more information about Sweet & Rough, click here.
Erotica Anthologies
I am the editor of two erotica anthologies, published in 2012. Best Lesbian Erotica 2012, published in December 2011 by Cleis Press, is available from all major booksellers, including Amazon, and Say Please: Lesbian BDSM Erotica is available on Amazon, released in April 2012 by Cleis Press.
And then of course there's Sugarbutch …

I've been writing at Sugarbutch since 2006. Browse through the categories dirty stories, essays, advice, reviews, and journal entries, or read the most recent writing blog-style.
Books in which I'm published
Articles, Interviews, Podcasts, and more